Masada's greatest strengths and weaknesses as a writer?
He is amazing at coming up with intricate worlds and ideas that he is able to successfully tie both to his own mythos and loads of existing literature, to the point where figuring out the world and premise takes precedence over plot in his games.
---
Almost all of his characters are insanely cool and memorable, and his games are full of awesome dialogue with lines that make you want to quote them for the rest of your life.
---
His games are basically oozing style and coolness.
---
https://www.youtube.com/watch?v=YpOuIr0kBCs
---
At the same time, he is terrible at coming up with interesting plot and tells most of his stories through painfully predictable and trite devices. He does lousy at character development; his best ones are completely static, and even the ones that are supposed to "develop" in essence remain the same anyway; Ren is saying the exact same thing at the end of the game as he was at the beginning. His romance is pretty bad; everyone is either already in love or fall for each other inexplicably. His characters are also so out there it's almost impossible to connect to them on an emotional level, and so most of his drama falls flat (not like there's that much to begin with).
---
Masada's games are also full of insanely long battle scenes that are written in the most cumbersome and long-winded prose ever (a big no-no in action writing, as it by nature is supposed to be fast paced) and if you add the fact they almost always conclude through some random coincidence and not strategy (whatever is convenient for Masada at the time, basically) and you always know who's gonna win anyway, it makes for some reeeeeeally boring passages.
---
https://www.youtube.com/watch?v=VPVyDkaTT_4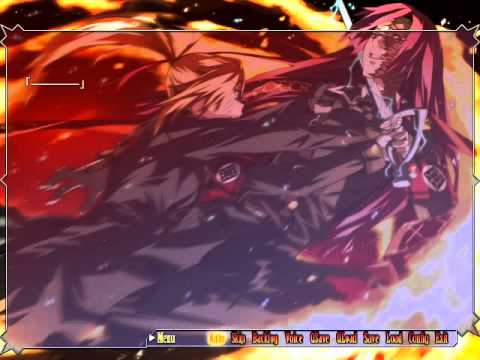 (don't watch more than three minutes if you're afraid of spoilers; though as I said, it's not like plot "spoilers" mean much in the context of Masada's games)
---
Reading Masada is a bit similar to reading classical mythology; you already know what's gonna happen, but you are still there to witness the details, ideas, and the flashy action. He's definitely an acquired taste, and if you can't appreciate complex prose and bigger than world chuuni ideas, you're gonna drop and hate any of his works (well, I'm actually basing this only on Dies Irae and KKK but I doubt any of his other works are much different). Actually, if you read Beowulf (preferably in Early Modern English translation), you might already have a rough idea about how Masada's games roll. xD